"It's a Call to Action": Program Coordinator Saede Eifrig Reflects on Creating Inclusive Spaces for Poet-Athletes of All Genders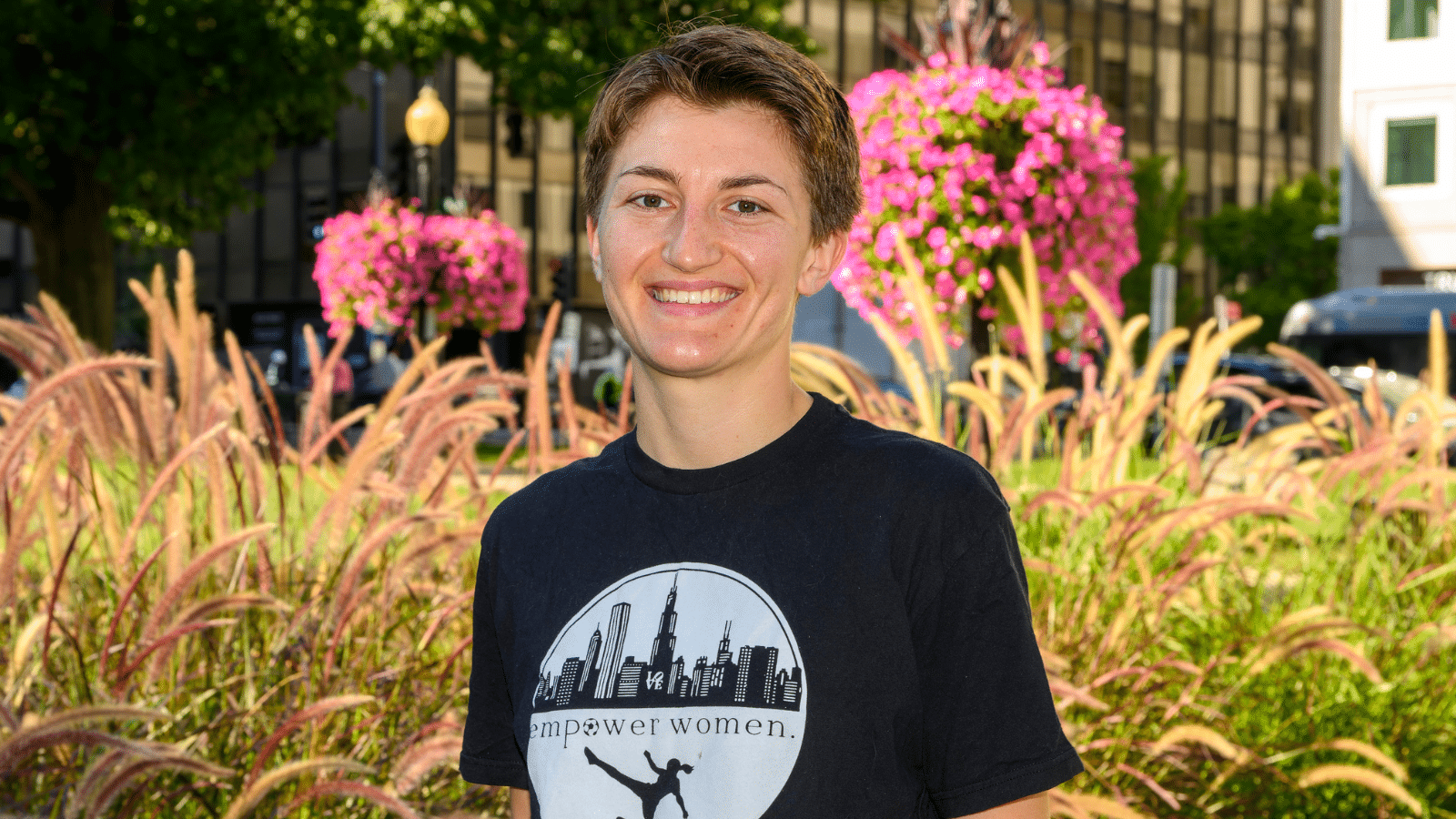 Throughout her life, Eifrig has used the power of sport to tackle gender stereotypes and create empowering spaces for young people in numerous countries across the world.
When Saede Eifrig played soccer in her local park as a kid, other children would interrupt the game to ask her whether she was a boy or a girl. "I was kind of annoyed at it," she recalls, describing how the boys on the field were surprised that a girl could be good at the sport. "I was always a little bit underestimated," she says.
Today, Eifrig sports closely cropped hair and, when she shows up to schools in her soccer gear during her work as a Program Coordinator for DC SCORES, she often gets the same question from the kids she works with. "At this point in my life, I love it," she says. "Because I get to explore what gender means to them and to me."
Eifrig joined DC SCORES in 2022. It was a natural step for the recent graduate, who has spent much of her adult life exploring how soccer can advance youth development. From breaking the mold as the only girl on her youth soccer team to working with Reclaim Childhood, a Jordanian nonprofit that supports refugee girls through sport, Eifrig hopes to build on her career thus far to advance gender equity in local communities through DC SCORES.
"Soccer helps me understand the world around me: power dynamics, gender issues, racial dynamics, politics," she explains. "I love how we embrace the power of sport at DC SCORES and empower our poet-athletes to use their voices to speak about what matters to them in all of these areas."
When Eifrig played soccer as a child, she was often asked whether she was a girl or a boy. Today, she uses the same question to spark important conversations about gender and identity.
Finding A Passion
Born to German and American parents, Eifrig split her childhood between Berlin, Germany, and Lemont, Pennsylvania. Encouraged by her parents, who were both college athletes, Eifrig began playing soccer at a young age. At the beginning of third grade, she joined her first travel soccer squad: a boys' team, where she was the only girl on the roster.
"I actually loved that because I love proving myself," she shares. "It challenged me in a lot of ways because I felt I had to be one of the best players on the team."
As she advanced through the sport, soccer introduced Eifrig to new experiences and communities. In high school, she began volunteering at a summer camp for refugee children in Berlin, where she created spaces for the kids to play soccer in the camp playground. The work inspired her to study anthropology and Arabic at Haverford College, and she wrote her senior thesis on sport and gender relations in Jordan, while also serving as the co-captain of the women's varsity soccer team.
Eifrig reflects upon how different her life might have been if she had not been allowed to join that first travel soccer team. "What would have happened if there was pushback because I was a girl?" she asks. "I think a lot about that now when I hear about kids being excluded from certain teams because of their gender."
Eifrig playing for her first competitive team, a boys' travel squad.
"An Opportunity to Grow"
This question is one that motivates much of Eifrig's work at DC SCORES. After graduating from college and moving to DC, she set out to learn more about the nonprofit by contacting SCORES staff members, who provided her with deeper insights into the program.
Eifrig was particularly interested in how the DC SCORES model blended soccer with poetry and service learning. "Honestly, I didn't know much about poetry so I really wanted to know how it all meshed together," she says. When a Program Coordinator role came up at the organization, she applied immediately. "I knew it would be an opportunity for me to grow and learn from all the aspects of the SCORES program," she remarks.
Eifrig is part of a team of Program Coordinators at DC SCORES that serves as the liaison between the nonprofit and its coaches and partner schools. The organization works exclusively with DC public and charter schools to implement its after-school programs, hiring coaches from within the school community to lead the curriculum. Eifrig is the direct link between DC SCORES and the 9 schools in her portfolio, so she gets plenty of hands-on experience with both coaches and poet-athletes.
"I love being able to sit in the middle, learn from both sides, and connect those two worlds," she says. "But seeing the kids really excited about the programming is the best part of the job."
Eifrig training volunteer referees at last year's Fall Frenzy.
Empowering Women and Girls
Eifrig's favorite moment from the seven months she has worked at DC SCORES came during last year's Middle School Capital Cup semi-finals at Audi Field.
Eifrig manages Boots from Pros at DC SCORES, an initiative created by U.S. national team player and DC SCORES board member Ashley Hatch that encourages professional players to donate their gently used cleats to youth players who need them. Every few months, DC SCORES receives cleats from players on the Washington Spirit, Hatch's club team and an official community partner of DC SCORES, which Eifrig then distributes to girls and nonbinary poet-athletes in the SCORES program.
Right before Capital Cup, Eifrig presented a pair of cleats to Rahnaya, a poet-athlete who plays as goalkeeper on Jefferson Middle School Academy's co-ed DC SCORES team. Wearing her new cleats, Rahnaya pulled off a series of incredible saves in the semis, including a vital penalty block. "It was just really cool to see the way her team celebrated her amazing save, while she rocked brand new cleats!" says Eifrig.
Rahnaya and a teammate celebrate her penalty save at Capital Cup. Photo: Justin Williams.
Initiatives such as Boots from Pros, which supports girls who want to play soccer, resonate deeply with Eifrig, who knows first-hand the impact that investing specifically in women and girls can have.
"Playing on the women's team when I was in college, on a team where I was the target audience, was empowering," she explains. "I was exposed to different people on campus, I was exposed to social issues in sports, and I learned how to be a leader."
Expanding Gender Inclusivity
With her colleagues at DC SCORES, Eifrig works hard to make sure that the program creates similar environments for learning and growth. "You can't just have people play a sport and assume they're going to soak up all these lessons," she shares. "You have to think about the practices you're implementing and ask, 'How are we building a team? How do we build supportive environments in general?'"
These supportive environments include welcoming and valuing poet-athletes from a wide range of backgrounds and identities, which is one of the reasons why Eifrig enthusiastically embraces children's questions about her gender. "It opens things up for such fun and interesting conversations about what it means to be a girl and what it means to be a boy and how they couldn't really know, unless they asked," she explains.
During college, Eifrig studied abroad in Amman, Jordan, where she researched the intersection of sport and gender relations in the country.
Every DC SCORES school is required to have a boys' and a girls' team and to give equal time and resources to both teams in all aspects of the program. Throughout their time in the program, poet-athletes are encouraged to select which team best reflects their gender identity. However, Eifrig says, it is important to continually reflect on ways the DC SCORES program can be more inclusive of kids who may have been previously marginalized in youth sports spaces because of their gender, namely cisgender girls and transgender and nonbinary poet-athletes.
"We need to be really intentional about the spaces we're creating," stresses Eifrig. "It's so important that we demonstrate that we value these players and we want them to reap the benefits of sports in the same way that cis boys in our program do."
Ultimately, Eifrig believes, this work is critical to the nonprofit's ambitious goal of making sure that DC SCORES programs are available to every District child who needs them. "If there's a kid who says 'I want to play soccer,' I want it to be a no-brainer that they come to us and know they are welcome," she says. "It's a call to action. I want to tell every kid in DC that we will keep building these spaces and creating structures and systems that include you. And not just include you, but make you feel at home and empower you to be yourself."