"We Can Change The World": Reigning Eastside Slam Champs Burrville Elementary Focus on the Real Reward of DC SCORES
As one of the longest-participating schools in DC SCORES, Burrville Elementary School has seen the program's impact on generations of poet-athletes.
This story is part of the Voices of DC SCORES series exploring how young people in the District are speaking up for their communities through DC SCORES. Learn more about the series and how you can support our mission at the Voices of DC SCORES campaign page.
For 5th-grader Daniel, winning the 2022 DC SCORES Eastside Poetry Slam with his teammates at Burrville Elementary School was pretty sweet.
"Afterwards, we got ice cream to celebrate," he says, grinning at the memory of his first DC SCORES poetry slam.
Last year, Daniel became one of the more than 3,000 young people served by DC SCORES when he transferred from another school to Burrville. The Burrville Eagles are one of the longest-participating DC SCORES teams, having joined the after-school soccer, poetry, and service program in 2000.
With over two decades of DC SCORES experience under its belt, the Burrville team has a large trophy case stacked with SCORES silverware. But the real prize for the Northeast school has been the long-term impact of DC SCORES on generations of students.
"The balance between the academics of poetry and soccer, the physical health piece, makes a well-balanced person," says DC SCORES Coach Katina Phifer about what makes the program effective. "It's a great foundation for kids to become leaders in their homes and communities."
Taking a Holistic Approach
For almost a decade, Phifer has led the DC SCORES writing curriculum at Burrville, but you'll never hear her refer to herself as the team's "writing coach."
"We see ourselves as 'coaches,' we don't identify as 'writing' or 'soccer,'" she says of the four-strong coaching team at Burrville. Alongside fellow coaches Tony Brown, Daryl Forte, and Andrea Timmons, Phifer also works as an educator at Burrville during the school day.
"We always drop into each other's sessions, so we, and the students, always know what's going on with the writing portion, what's going on with the soccer," she adds.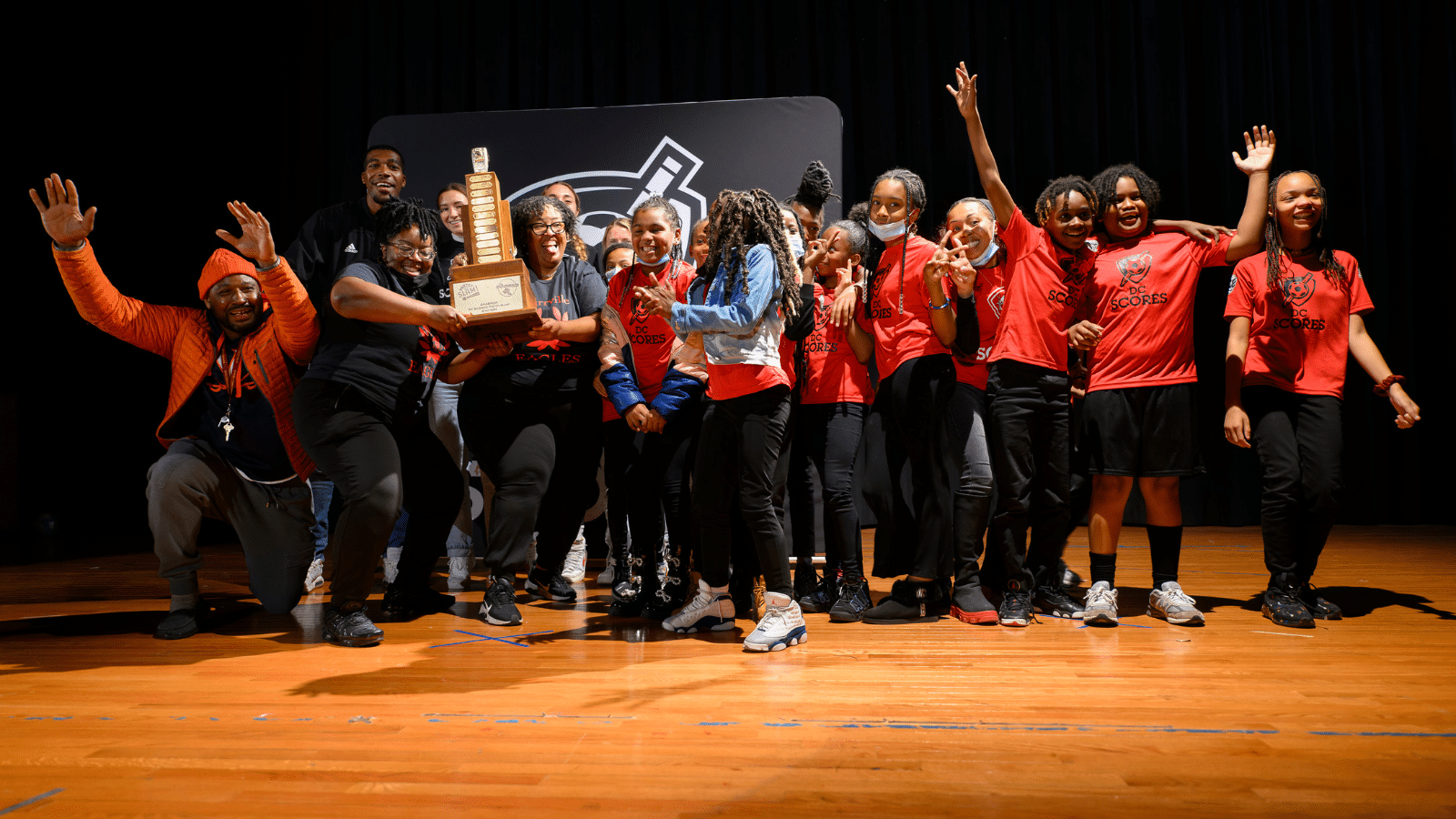 The Burrville team celebrates their 2022 Eastside Poetry Slam win.
The approach exemplifies DC SCORES' whole-child model, which ensures that every young person in its program benefits from soccer, spoken word, and service programming. Known as poet-athletes, these young people forge lasting friendships, learn to express themselves emotionally, and enact positive change in their communities.
"I really like that we get to write poems and we get to play soccer. We just get to be ourselves around other people, and it's a good way to make friends in different grades," says 3rd-grade Burrville Eagle Somaya.
"True Stuff About Me"
This fall, like poet-athletes across the city, the Burrville team has been working hard on poems about their community. These will form the basis of their neighborhood service project in the spring. Plus, the Eagles have a title to defend.
"We didn't really expect to win," says Phifer of last year's slam victory. But, this season, flush with their success, the team has higher expectations.
"I'm looking forward to hearing everyone cheer after we're done with what we're saying," says Ryan, a 3-grader preparing for his first DC SCORES slam. He remembers watching his older sister lift the slam trophy with Burrville last year, and he hopes to make it a family tradition.
Poet-athlete Ryan (pictured left) hopes to be on the winning side of his first-ever slam this year.
For other students, performing on stage carries its own reward. 5th-grader Hailee is quiet by nature, but likes to "express [herself] through poetry."
"I feel like people don't really get to know me that much, but I noticed that if you don't get to express your feelings, people won't know how you feel when you say something," she says. Poetry helps her put her emotions into words.
The process of putting pen to paper alone can have positive effects. "I write about feeling relaxed, feeling calm and happy, being joyful and being kind to others," says 5th-grader Kevin of what inspires his poetry. He adds, "I like to write about true stuff, stuff about me."
A Safe Space
Though the DC SCORES fall writing curriculum culminates in a competitive slam, many of the poems the Burrville team creates are not shared publicly.
One of the poems they collectively wrote last year explored gun violence and loss, issues that hit close to home for many Burrville poet-athletes. The squad intended to debut the piece at slam but opted for a new topic when one of their teammates didn't feel emotionally ready to perform it in public.
"We just said, 'Okay, we have it, but we'll just put it to the side right now.' The student said a lot of things about gun violence in our session, but he didn't want to perform it, and that was okay," says Phifer.
But 4th-grader Eli stresses that simply talking about things with your friends can make a big difference: "You may make them feel good, and if they feel bad about theirselves, you can cheer them on."
The team's poems that do make it into the public spotlight often carry a message. "I don't really want to write for no reason," says Daniel. "Somebody listening gives me a reason."
The Burrville team also has a Junior SCORES team, which attended DC SCORES Junior Jamboree last season.
Through their poems over the years, Burrville poet-athletes have learned about a range of issues they go on to address in their service projects. Phifer has seen her students transform into eco-activists, anti-bullying advocates, and champions for unhoused people in their neighborhoods.
"They really get into service, that's what I like about DC SCORES," says Phifer. "It looks at the academics, it looks at the physical health, it looks at the needs of our community, and it ties everything together."
"These youth, they're not always going to be elementary students. They're going to be our middle schoolers, our high schoolers, our politicians, our doctors. So when you instill service into them while they're young, that's their foundation," she adds.
And though Ryan might have his eyes on the poetry slam prize, winning isn't what he loves most about DC SCORES. Building connections with his peers is the most rewarding aspect of being part of the program. "Nobody is looking to fight with anyone, and you all making friends every single day," he says.
With that foundation, there isn't anything the Burrville Eagles can't do, believes Somaya. "We can stop gun violence, we can stop overpriced things, we can stop the bad things," she says. "We can change the world."