Middle School Poet-Athletes Step Up To The Mic in 2023 DC SCORES Middle School Poetry Slam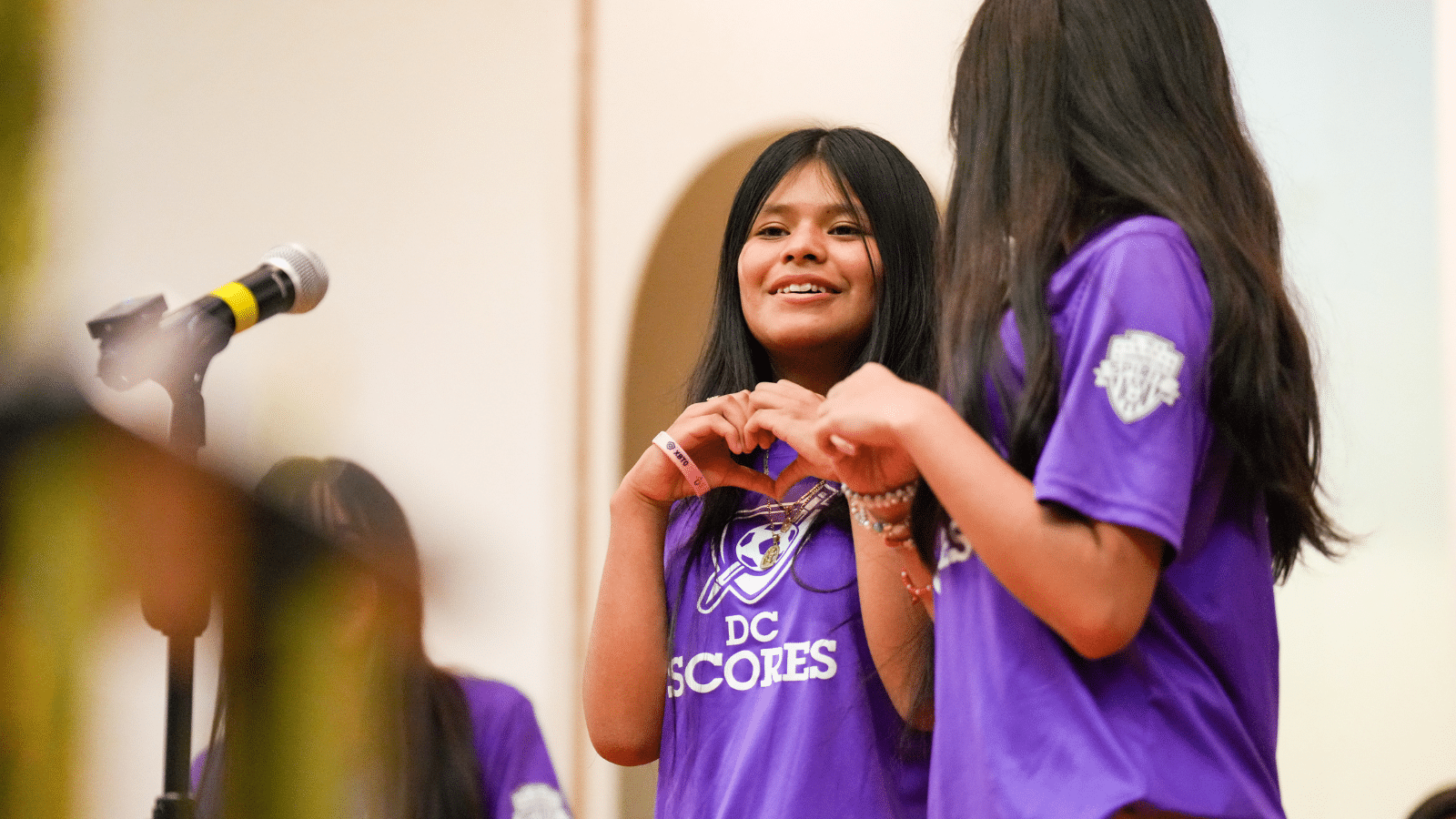 Middle School poet-athletes from 14 schools across DC participated in the event at Trinity Washington University. Photo: Cody Cervenka
On November 15, 2023, more than 200 poet-athletes from 14 DC public and public charter schools took to the stage for the 2023 DC SCORES Middle School Poetry Slam.
Held at Trinity Washington University's O'Connor Auditorium, the event was the culmination of DC SCORES' fall middle school writing curriculum, which brings teams of young people together to compose poetry about the topics that matter most to them.
In the non-profit's award-winning model, all participants — who are known as poet-athletes — complete the writing curriculum in a program that also includes playing soccer and delivering community service projects based on the issues explored in students' poetry.
During this year's slam, middle schoolers stepped up to the mic to speak on issues that impact them, their families, and their communities. Poems addressed a range of subjects, from condemning racism, bullying, and gun violence to celebrating family, friendship, and the joy of playing soccer.
Poet-athletes performed in front of an energetic crowd of their peers, coaches, teachers, and loved ones. Photo: Cody Cervenka.
In the spoken-word competition, poet-athletes' performances were rated by a panel of three judges: award-winning poet and teaching artist María Fernanda, 4th-place Women of the World Slam title-winner Carlynn Newhouse, and former DC SCORES staff member Greta Adjei-Silas.
After a slew of impressive performances, the judges narrowed the field down to winners in five categories. Hart Middle School poet-athletes won the Spirit Award for Most School Spirit for the second year in a row with three poems that celebrated why they love being Hart Jets.
Zi'ona, a poet-athlete from Leckie Education Campus, took home the Shine Award for Best Individual Performance for her work on "Hero," a piece addressing the burden of "heroes" who perform social roles in which they are relied upon but often don't receive similar support from others.
School Without Walls secured third place in the team prizes for their series of performances celebrating the 50th anniversary of hip-hop, while the Sojourner Truth School took second place for their poems addressing emotional well-being, the harm caused by identity-based stereotypes, and how to overcome bullying.
Zi'ona from Leckie Education Campus — pictured here with her coach, Curtis Jordan — won the Shine Award for Best Individual Performance. Photo: Cody Cervenka
The top winner of the night was KIPP WILL Academy, who won first prize for their three poems exploring the impact of violence on young people. Their final piece implored the audience to "Help one another" and "Stop the violence, racism, fights, and war."
"All of our poet-athletes performed incredibly important poems tonight and proved why we must listen to the voices of these rising stars," said Tatiana Figueroa Ramírez, DC SCORES Director of Creative Writing and Arts and lead for slam events. "I could not be more proud of these poet-athletes who delivered one of the best nights in the DC SCORES calendar."
The team from KIPP WILL Academy took home the top prize, handed out by players from the Washington Spirit, for a series of poems addressing the impact of violence on young people. Photo: Cody Cervenka.