"DC SCORES Is Instrumental": MOLA Director Eduardo Perdomo Discusses How Office is Partnering With DC SCORES For Impact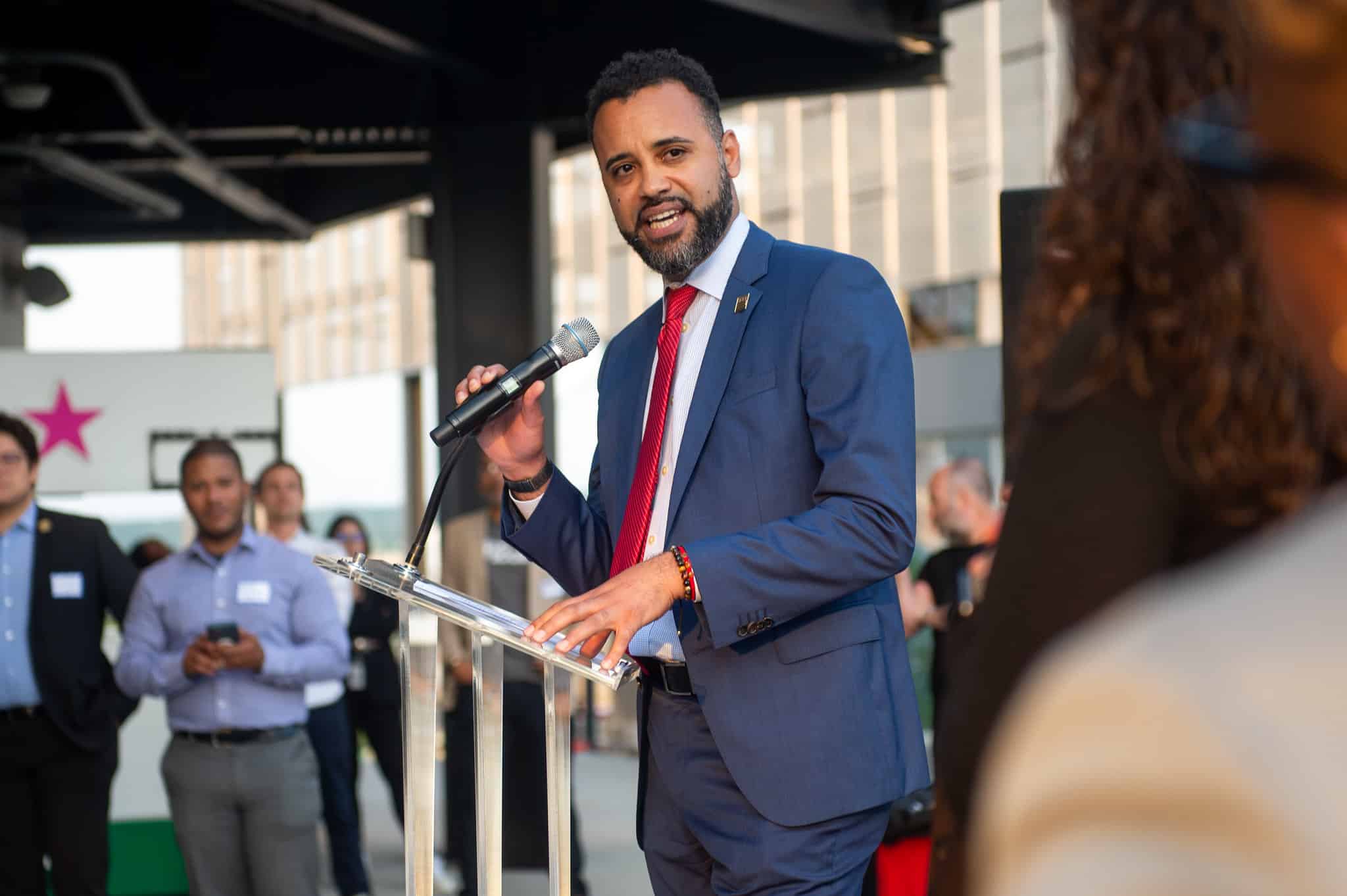 Director Perdomo showing support for DC SCORES at the 2022 SCORES Awards. Photo: Hannah Wagner
Throughout its history, DC SCORES has worked closely with local government agencies to deliver its award-winning program in the city's public schools.
Since 2009, DC SCORES has partnered with the Mayor's Office of Latino Affairs (MOLA) to ensure that its programs meet the needs of the District's Spanish-speaking community. With MOLA funding, DC SCORES translated resources into Spanish and supported coaches using Spanish-language instruction to ensure that language isn't a barrier to meaningful participation in the program.
Recently, we reached out to MOLA Director, Eduardo Perdomo, to ask him a few questions about what makes MOLA and DC SCORES' partnership so special.
What is MOLA's vision in working with Latino youth in DC? Why chose to partner with DC SCORES to help accomplish this?
Mayor Muriel Bowser's Office on Latino Affairs was created with the goal to connect people to resources and solutions. Whether the services come through DC Government or community partners, DC Latino residents deserve access to them. DC SCORES over the years has enabled MOLA to engage with younger populations and families within the DCPS [DC Public Schools] school system, building leadership skills, literacy, and healthy lifestyles.
How do you envision the future partnership with MOLA and DC SCORES unfolding?
My hope is further enhancing our engagement with young people in DC. We understand that in order to build a brighter future we must do the necessary work now that the younger generations can benefit from. I believe DC SCORES is instrumental in achieving this due to their direct connection with DC youth. Through poetry and soccer, they keep youth engaged, all while continuing building equity and inclusion.
What has been your favorite DC SCORES moment or event that you've attended?
My most memorable event was at the poetry slam. It was my first time attending as my new position as Director of MOLA, at the first DC SCORES poetry slam after the pandemic; the students were so excited! I did not imagine seeing so many students and their families show up. Seeing the students being so engaged and willing to communicate with what they were doing was impressive. It was a reassuring moment that DC SCORES was doing great work with DC youth.
Leckie Education Campus poet-athlete preforming "I am Puerto Rican" at the 2022 Eastside Poetry Slam.
Why do you think it's important that there is strong Latino youth engagement in sports and the arts?
There is a unique connection between the two.
It is important to generate and preserve safe spaces for sports and artistic learning, at no cost to allow kids to express themselves. Maintaining physical and mental exercise is essential for a healthy lifestyle.
It's important to guarantee equity in our diverse community and by maintaining access to a healthy mind and body. These spaces are important, and every child deserves to experience being in them. Keeping these activities in the community also preserves community safety and togetherness within the community itself.