Australian and New Zealand Embassies Celebrate Women's World Cup at DC SCORES Summer Camp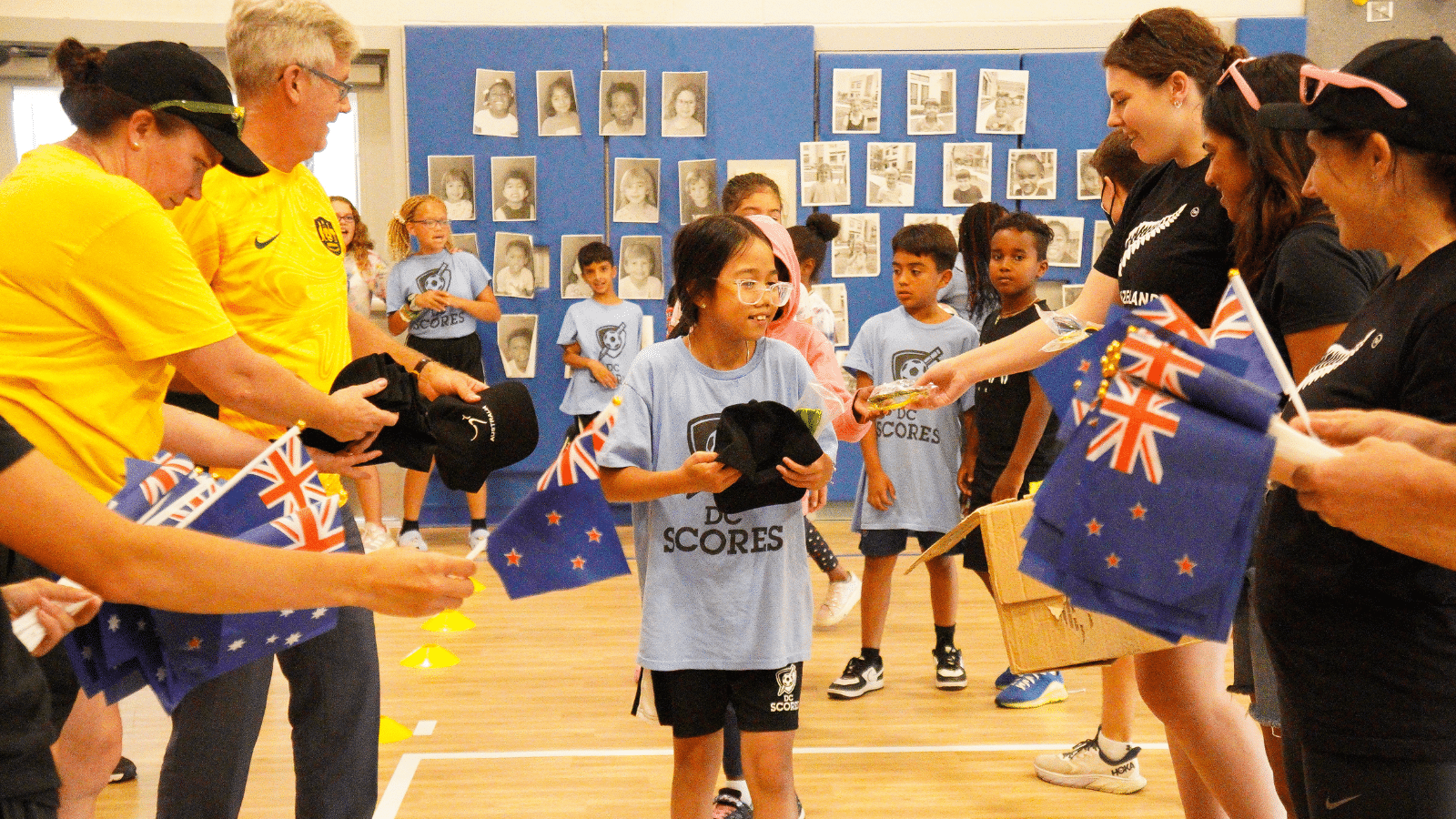 The embassy-hosted event was an opportunity for poet-athletes to learn more about the tournament host nations' cultures and share their soccer and poetry skills with an international audience.
On July 28, poet-athletes got a taste of the Women's World Cup (and traditional Australasian barbeque!) when staffers from the Embassies of Australia and New Zealand hosted a soccer, poetry, and cookout event for DC SCORES' summer campers.
Representatives from the embassies of the World Cup host nations participated in teambuilding workshops and a soccer skills clinic coached by camp participants. Students also had the chance to meet diplomatic and cultural dignitaries from the two countries, including Paul Myler, Deputy Head of Mission at the Australian Embassy, and Chris Tse, New Zealand Poet Laureate, who gave a reading and talk at the event.
"It was a wonderful experience to hear the inquisitive questions from the children about poetry and what inspires them. It was also exciting to hear about their different cultures and how they all come together through sports," said Rosemary, an Australian Embassy staffer who helped organize the event.
Campers led drills on fundamental soccer skills for embassy staff.
During the celebration, campers led drills demonstrating passing, dribbling, and shooting techniques ahead of a small-sided soccer tournament where Team Australia and Team New Zealand went head to head to show off their new skills.
The event also showcased the writing component of the DC SCORES program when Tse performed a poem written especially for the occasion and gave a talk about his work as an advocate for New Zealand's poetry and poets.
"[DC SCORES students] are such an engaged and enthusiastic bunch and they made me feel really welcome," said Tse. "This was a wonderful way to spend part of my time here in the United States and Washington, DC. I love what DC SCORES is doing with the kids, combining soccer and poetry. It's inspired me!" he added.
New Zealand Poet Laureate Chris Tse performed a poem written especially for the event.
DC SCORES serves more than 3,000 young people at over 60 elementary and middle schools across the District of Columbia through soccer, poetry, and service-learning programs. DC SCORES participants are known as "poet-athletes" and, through the program, are encouraged to use their voices to express themselves and serve as leaders in their communities.
As they enjoyed a traditional "sausage sizzle," or cookout, laid on by embassy staff, many poet-athletes remarked that the embassy event had been the highlight of their summer camp experience.
"My favorite part was meeting all the different people from New Zealand and Australia — that was pretty cool. After today, I want to say to everyone to go to Australia and New Zealand!" said Sienna Jones, a 5th-grader at John Lewis and camp participant.
"DC SCORES is a huge part of the District community, but today was an opportunity for us to celebrate how soccer and poetry can bring people together from around the world," said Katrina Owens, Executive Director at DC SCORES.
She added, "The unifying power of sport has been one of the biggest takeaways from this Women's World Cup, the first in the tournament's history to be hosted by more than one nation, and we're so proud that DC SCORES has been able to part of that legacy."
The celebration included a traditional "sausage sizzle," which replicated community cookouts popular across Australia and New Zealand.