"They're There For Me": Ten-Year-Old Kollyn Foster Credits His DC SCORES Team For Supporting Poetry Journey Ahead of Our Words Our City Performance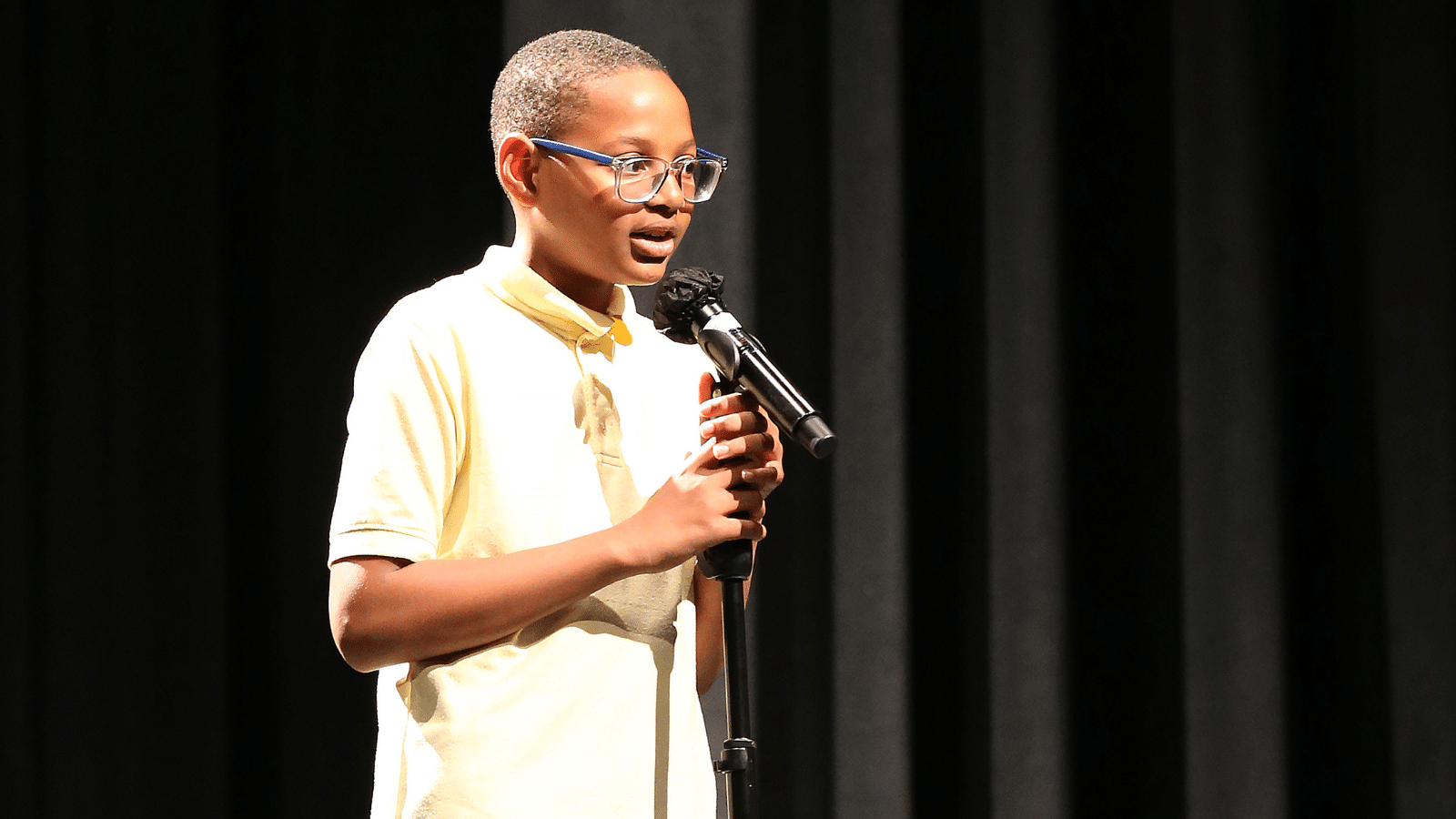 Kollyn will perform his original poetry at DC SCORES' annual poetry showcase, Our Words Our City, in May. Photo: Aya Takeuchi.
When Kollyn Foster sits down for his interview with DC SCORES, a number of heads pop up curiously over his desk. Ten-year-old Kollyn is part of the Tyler Elementary School DC SCORES team and the rest of the squad is sitting quietly on the floor around him, craning their necks to get a look at the action. "He wanted the whole team to come out and support him," explains Tyler Coach Elijah Purnell.
Kollyn's mom, Janna Roberts, also calls into the interview. "I want you to sit up and speak clearly, okay?" she says to him. Heeding her advice, Kollyn begins to talk about the impact of DC SCORES on his life. He is animated as he shares stories about making friends, finding new ways to express himself, and developing his skills in poetry and performance.
Kollyn originally joined DC SCORES because he wanted to be a soccer coach, but after a few writing sessions with Purnell, he fell in love with poetry. The fifth-grader is now participating in the nonprofit's Youth W.O.R.D. Initiative, an enhanced program that offers writing and professional development opportunities to poet-athletes with an interest in poetry and performance.
On May 16, Kollyn will step into the spotlight at Arena Stage to perform an original poem in front of an audience of hundreds at Our Words Our City, DC SCORES' annual youth poetry showcase. Though Kollyn hasn't finalized which of his poems he will perform, it is sure to explore one of his many passions.
"If you have a certain thing that you love, you can write about it and present it to somebody," says Kollyn. "That's poetry."
"You Have to Serve an Emotion"
"Kollyn has always loved to be the center of attention," says Roberts, recalling how her son would sing solos at church from an early age. "Performing is in his blood. He's never really been shy."
Taking part in poetry programming at DC SCORES has allowed Kollyn to translate that star power into confidence in the playground. "Since starting poetry, Kollyn's been able to express himself in a different way," says Purnell. "He's sticking up for himself, he's voicing his opinion, he's growing up. And I give credit to the poetry."
Kollyn found a love for performance as a singer in his church choir.
Now, when Kollyn has something he wants to say, he grabs his poetry notebook. "I come up with my topics by representing what I love, and writing about what I love," he says.
For Kollyn, one of the most creative parts of producing poetry is finding the best way to convey emotion through his work. At Youth W.O.R.D., Kollyn and his fellow poet-athletes work with poetry specialists, all of whom are professional spoken word artists hired by DC SCORES to help students hone their performances.
"Mr. Jacob, he's a famous poet," says Kollyn of Jacob Mayberry, a.k.a. "Black Chakra", a poetry specialist working with the Youth W.O.R.D. cohort this year. "He talks to us about the emotions you have doing poetry."
"Some poets are really dramatic and love to show their emotion," continues Kollyn. "If you're talking about an emotion, you can't be all bland. You actually have to serve an emotion."
Kollyn with this year's Youth W.O.R.D. cohort, alongside DC SCORES poetry specialist Zarea Boyde (squatting, center).
Family Connections
In November, Kollyn got his first taste of performing poetry in front of a live audience during the DC SCORES Westside Poetry Slam. He delivered Tyler's solo performance, sharing a piece titled "Muhammad Ali," an ode to the iconic boxer.
More recently, Kollyn's poems have paid tribute to the people he admires closer to home. He writes a lot about his family, including important figures from previous generations. "I talked about my ancestors that were slaves," he shares. "They sacrificed their lives for me. We should all respect our ancestors, even if we don't know them."
Despite so much of Kollyn's work revolving around family, Roberts says that she often only hears his work for the first time when she sits in the audience at a performance. "He'll make me wait to hear them," she says. However, she recently got a sneak peek of Kollyn's work when she spotted a poem about her in his DC SCORES notebook.
Kollyn likes to write about his mom, Janna, who he says "gives [him] all the support [he] needs."
"It touched my heart," Roberts shares. "As a parent, you try your best but you don't know if your child is accepting it or understands what you're doing. In his poem, Kollyn was saying that he appreciates me."
Kollyn spends a lot of time thinking about the people who have made an impact on his life. It is what he reflects on the most when he talks about DC SCORES. For example, when asked what he hopes people will understand about his experience in the program, he looks around at his team. "Honestly, I just want this story to be about my teammates," he says.
A Close-Knit Community
"They're just there for me," says Kollyn of his friends on the Tyler DC SCORES team. "At DC SCORES you have to have a lot of love and respect," he continues. "You have to pick up your teammates. You have to help them."
"We're big on unity and leadership at Tyler," says Purnell, who also serves as a Student Success Coach at the school. "I hold my DC SCORES players to a higher expectation. These are my stars within the building. They know what their goals are and they know what I'm expecting of them and they build on that."
Kollyn likes to play goalkeeper during DC SCORES game days and says his teammates are always there for him.
Kollyn has found poetic inspiration in the close-knit DC SCORES team. "If I learn stuff about my peers, I can write about them," he says. "For example, our captain, he's kind of goofy but he's also pretty responsible."
Purnell's emphasis on community extends beyond just the Tyler team. The poet-athletes are expected to show respect and support to their peers on DC SCORES teams across the city.
Connecting with new poet-athletes is one of Kollyn's favorite things about DC SCORES. "I love meeting people through poetry," he stresses. "I loved all the poems at slam," he says. "I saw some of the other performers were shy and, when they were done, I was cheering them on."
Kollyn's commitment to being a champion for others reflects the deep support he has received from his own DC SCORES team. As his interview wraps up, Kollyn's Tyler teammates get to their feet and cheer loudly to congratulate him on a job well done. "We're really proud of Kollyn," says Purnell, beaming. "He's going somewhere!"