The Special Sauce? Our Coaches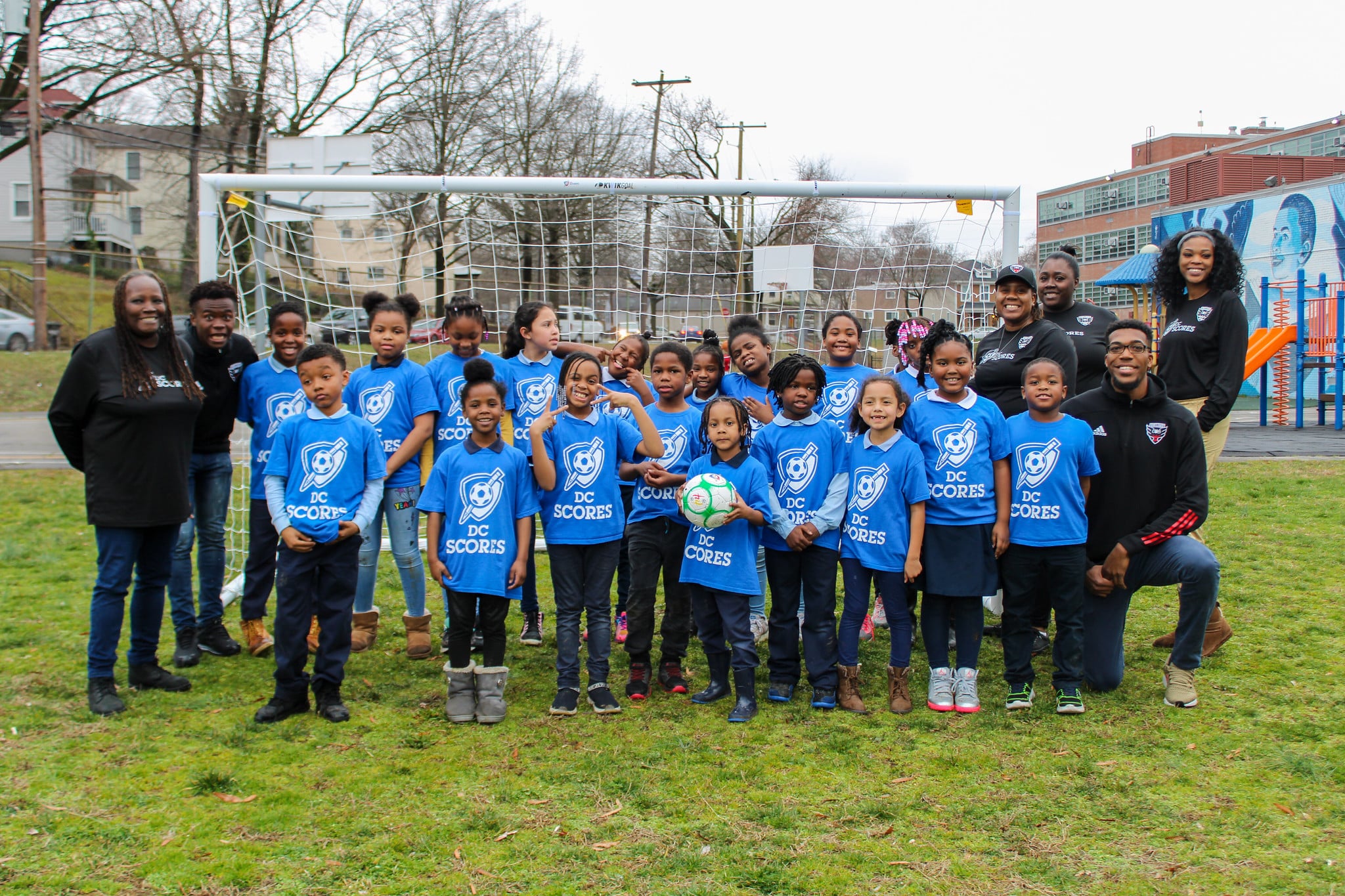 If anyone has ever wondered why the combination of soccer, poetry, and service-learning is possible for DC SCORES – the answer is our coaches.
The special sauce is the teacher-coach model that makes poet-athletes feel safe and offers teachers another outlet to build relationships with their students. A perfect example of this model in action is visible at Aiton Elementary School.
Ms. Small is a writing coach for the DC SCORES team and a PK3 teacher at Aiton. She's been involved with DC SCORES for seven of the eight years she's been at the school and states the excitement of the kids as her reason to come back every season.
The Aiton Bears have been a part of the DC SCORES family since 1999! Throughout these 21 years, they've established themselves as a powerhouse both on and off the field and that's where the excitement of the kids stems from.
From poetry slams to soccer games and making a difference in their community through service-learning projects, the Aiton Bears have a legacy of excellence thanks to their coaches.
Coach Small speaks so highly of the coaching team at Aiton. All six coaches, including the Junior SCORES coaches that recently joined within the past year, have an all hands on deck mentality. It's no surprise that the Aiton coaches won the Teamwork Award during our 2018 SCORE Awards celebration.
Over 80% of our coaches are teachers at the schools they coach at, which has proven to be crucial during these challenging times. This model is fundamental for navigating the challenges of distance learning both for our schools and for our families. Unsurprisingly, the coaches at Aiton have risen to the challenge and gone above and beyond for their poet-athletes.
The key is communication – and a lot of it since we can't physically be together. In this case, the main ingredient for successful communication has been the relationships the coaches have built with their kids and families.
Every so often the six Aiton coaches will hop on a Zoom call to talk about their game plan for their virtual practices, but mainly their group text message chain has proven to be the best form of staying in contact and strategizing ways to show up for their team.
Their team culture where everyone pitches is in has really helped them accomplish their goal of meeting the needs of their kids. All of the coaches know who has a great rapport with families and know whether phone calls, texts, or FaceTime is best to genuinely make their engagement as personable as possible.
As difficult as the idea of a virtual spring season seemed to many, Coach Small and the rest of the soccer and writing coaches made sure to provide that safe space for their kids where they can listen to them. Sometimes it wasn't about soccer or writing – it was about just being with their teammates and a trusted mentor. For Coach Small, she really recognized the time they dedicated to DC SCORES as a time for their poet-athletes to focus on themselves and have their 'me' time. Every child has a different experience, just like our coaches, and just like we all do at home. Everyone is on different schedules and during the school year, there was still a lot of work to be done for both the teachers and the students, so the SCORES at Home practices added a necessary break from all of that.
Now as we've wrapped up the spring season and transitioned to the summer, much of the same enthusiasm and technology fatigue still apply. Being on a computer all day is hard – even for adults – but the Aiton Bears are still eager about all of the summer camp activities, especially anything soccer related!
The social and emotional part of a coach's job can often be overlooked, but that's not the case at Aiton. Coach Small, Coach Bookard, Coach Carter, Coach McCullough, Coach McFarlane and Coach Williams have all gone the extra mile to be present for their team. It's that teamwork and commitment that is truly the special sauce of DC SCORES.